18 Apr

Applications open for the 2017 Infinity Engineering Academy

The INFINITI Engineering Academy offers seven engineering students the opportunity of a lifetime: a 12-month placement working with both INFINITI Motor Company and the Renault Sport Formula One Team.
Applications are now open for the 2017 edition of the program. Students will learn from leading engineers both at INFINITI Motor Company and the Renault Sport Formula OneTM Team, thanks to the technical partnership and strong collaboration between the two companies
Having launched the careers of previous winners, the INFINITI  Engineering Academy is THE technical recruitment initiative in Formula OneTM . Former Academy Engineers, William Priest and Daniel Sanham, both secured full time roles with INFINITI and Renault Sport Formula One Team following their placement with the INFINITI Engineering Academy, and you could be next!
The regions for 2017 include Asia & Oceania, Canada, China, Europe, Mexico, Middle East and United States*, with each region announcing a winner.  The winners will move to the UK with their prize package including air travel, accommodation, access to an INFINITI company car and a salary
"I anticipated this experience to be absolutely amazing, but I still found myself blown away!" said Caitlin Bunt, INFINITI Engineering Academy US winner 2016, who is doing her six-month placement at the INFINITI Technical Centre in Cranfield and will begin the second part of her placement with the Renault Sport Formula One Team in Enstone soon.  "I am participating in projects and gaining experience I never thought I would get to in my first six months. Being here, behind the scenes and contributing to these exciting projects is a dream come true."
This year the INFINITI Engineering Academy has teamed up with Math and Science Problem-Solving experts, Brilliant.org, to create a series of engineering puzzles. To find out if you've got what it takes to be a Renault Sport Formula One Team Engineer, click here to see if you can answer the puzzle below:
Which vessel fills up first?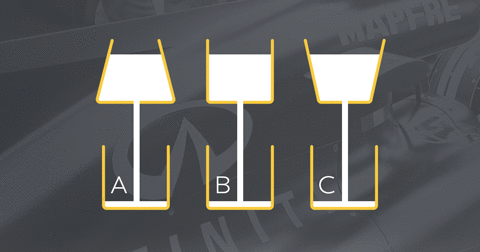 Applications close on Saturday 20 May at 23:59 GMT.
Click Here for PDF of press release